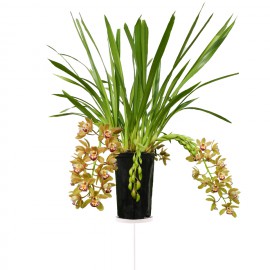 Cascade Cymbidiums
In the world of orchids, the Cascade Cymbidium occupies a special place. Where other orchids have already been bred considerably, this species is still close to its botanical ancestors.
They are real winter orchids and loved because of the special flower shape. The flower branches hang down like a waterfall, making the plant stand out in a plant hanger or higher flower pot.
The Cascade Cymbidium is a real eyecatcher in every interior, whether it is at home or at the office. In Asia, giving or receiving a Cymbidium symbolizes friendship and respect. Read more.....



LZ Orchidee is the only breeder of Cascade Cymbidiums in Europe. In our greenhouse of 6,000 square meters in the Westland, various types of Cascade Cymbidiums grow.
From October to March, when the orchids are in bloom, it is a sea of ​​color here. For us it is the peak of crowds.
We supply the Cymbidiums throughout Europe, to wholesalers, but also to private lovers through our webshop. We are Leo and Trees Zwinkels, the proud owners of this beautiful nursery. Read more…