DO WE HAVE ENOUGH BRANCHES IN OUR CASCADE CYMBIDIUM THIS YEAR?
Created :

oktober 19, 2021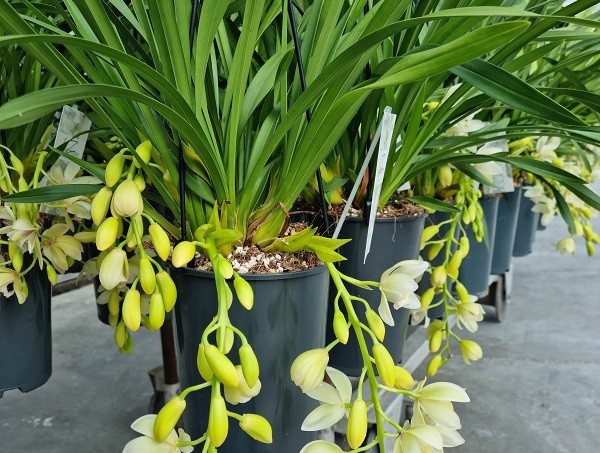 For every cymbidium enthusiast, but also for the professional grower, the question is every autumn whether we will get enough branches.
Yes, we think we know what to do to get the cymbidium to bloom, but this is a stubborn plant that has not yet revealed all its secret.
It looks good for our earliest varieties Harwin, Indian summer and the early Ice cascade, for the varieties that flower after January 1, we have to be patient before all the buds become visible.
Over the past few weeks I have been approached a few times by cymbidium enthusiasts that they did not see any buds in their plant yet. It is of course possible that the buds are not yet visible because they have put the plant outside early in the spring and the buds are just not that far yet, but they will come.
In the other case, there is a good chance that there will be no or very few buds and this is because the plant has not had a cold period, but it can also be that the plant has been spoiled too much by too much nutrition.
In the spring, that's not a big deal. But in the summer when the plants are growing nicely we should try to stop the growth a bit so that he starts thinking about his buds. What can we do to achieve this, in practice this often means less water and nutrition, with the result that the leaves become a bit more yellow.
However, it may be that there is a lot of nutrition in the spring with, for example, 20-20-20, then it is better to rinse the pots well with rainwater without nutrition at the beginning of June, otherwise there is a chance that the plant will still have too much. has reserve nutrition and continues to grow well.
As soon as the buds become visible, more water and nutrition can be given so that the branches can grow well.