THIS WEEKEND THE CLOCK GOES TO WINTERTIME BUT ALSO START OF THE FLOWERING SEASON OF THE CASCADE CYMBIDIUMS
Created :

oktober 25, 2020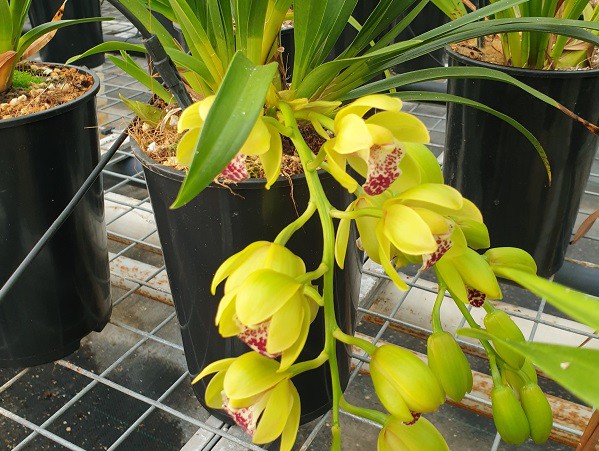 Last weekend of October, the clock is set back an hour, which means that it is light an hour earlier in the morning and dark an hour earlier in the evening.
I like the earlier light in the morning, it is better for my biorhythm.
I actually like the spring more than the autumn, but since we started growing cymbidiums, I have come to appreciate the fall and winter a lot more. This is the period in which the buds reappear in the cymbidiums and bloom. Every year I am curious about how they will bloom and how the quality is. Each time I'm  surprised by the beauty of the flowering spikes
What makes this year even more fun is that the 15 seedlings that we selected 5 years ago are now blooming in larger numbers for the first time, in addition to the varieties such as Ice Cascade and Indian Summer, Auburn, Sakura that have already proven themselves.
These 15 new varieties will not all be toppers and some may just be misses, but I assume that of the 15 new varieties there will be at least 5 that will remain, which we will select even further in the coming years, so we have a nice addition our range of cascade cymbidiums.
Harwin and Indian summer are now starting to bloom but the Ice cascade is a bit later than I had hoped. It seems that the extremely high temperatures of this summer have slowed everything down a bit. So a bit later, but they are coming.