MOST BEAUTIFUL SEASON OF THE YEAR
Created :

december 9, 2022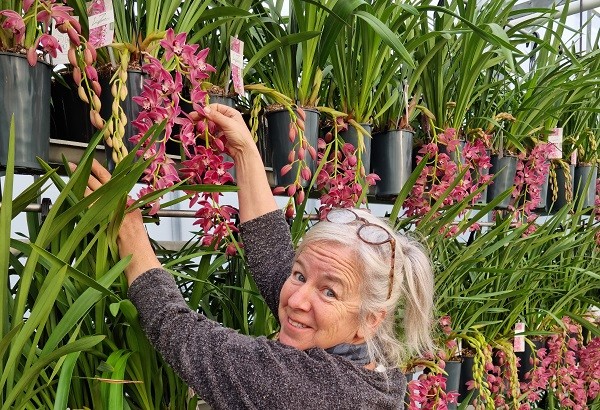 09-12-2022
It's high time to tell you how things are going here, now in the middle of the season.
From the beginning of October we had the first Ice cascade plant flowering.
Fortunately, we succeeded again this year in getting the Ice cascade to bloom a bit earlier to make the season a bit longer, this is good for the division of labor at the nursery, but of course also very good for you, who of course have such a beautiful cascade again. want to have cymbidium at home.
After the hot summer it was a matter of waiting to see if enough buds would appear and I must say that we are generally satisfied, but again this year we are unpleasantly surprised that there are sections where the flowering is very disappointing, and that there are a lot of shoots have been made where I would have liked to see buds. How we can prevent this remains the challenge every year, but extreme weather like this year with 1 day of 40 degrees is not good for this. Fortunately, we did have an autumn with a lot of light and some of the plants that had only produced shoots still produced buds.
Now just before Christmas it is a pleasure to be in the garden even though we have a lot of work. Many different varieties come into bloom and it continues to be enjoyed every year.
The dark days before Christmas that everyone in the Netherlands is always talking about do not exist at our nursery.
At the moment the following varieties are in bloom: Ice cascade, Anisa, Sakura, Novia, Thana, Ruby turner, Auburn, Pumilow and the earliest Kiwi mid night, but I have to say that we always sell the Kiwi midnight with very small buds because it is very sensitive to breakage.
The first beds with Ice cascade have also been set up properly, this is necessary to have flowering again in October next season. So you understand we don't have to be bored.
I would like to take this opportunity to wish you a very happy holiday on behalf of Trees as this was the last blog of this year. Greetings Leo